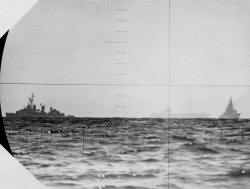 Seen through the Cusk's #1 periscope, the
Constellation's destroyer screen comes out
of Long Beach Harbor for the war games.
Their active sonar is pinging loudly as they
search in vain for the submarine they know
is stalking them. Look closely through the
hazy background and you can see the
Constellation emerging from Long Beach Harbor.
(Photo courtesy of Tom Roseland)
Still searching for the Cusk, the destroyers
criss cross each other as a search plane
attempts to help. Again, the Constellation can
be seen in the background.
(Photo courtesy of Tom Roseland)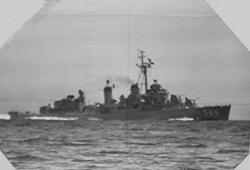 The destroyer USS Stoddard (DD 566)
is centered in the cross hairs of the Cusk's
#1 scope as she searches for "enemy"
submarines.
(Photo courtesy of Tom Roseland)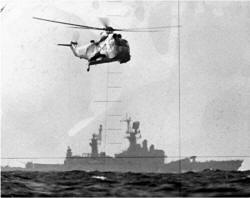 The fast frigate USS William H. Standley
(DLG 32) is seen through the cross hairs of
the Cusk's #1 scope. In the foreground, a
helicopter from the USS Constellation dips
an active sonar buoy in the water to try and
find the Cusk.
(Photo courtesy of Tom Roseland)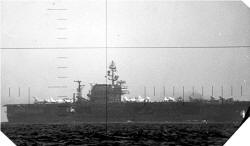 USS Constellation (CVA 64)
is centered in the cross hairs of the Cusk's
#1 scope as Captain Don Killian takes a
"final bearing to shoot."
(Photo courtesy of Tom Roseland)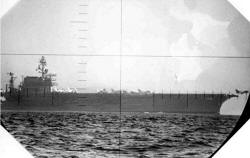 Launching aircraft
The USS Constellation can be seen launching
aircraft through the Cusk's #1 scope.
(Photo courtesy of Tom Roseland)